First, let me start by saying McAfee's Total Protection Service is a total piece of shit. If you value your time, sanity, and the security of your machines – do not purchase this product. At least not yet. The current versions suck so hard I actually ate the loss money-wise and got rid of this fucking joke of a service / product. I spent more time helping their "support" groups troubleshoot the clearly released-to-soon turd than I did not worrying about threats to machines.
What makes this kind of funny / sad / frustrating is the graphic they use to help sell this heap of fuck.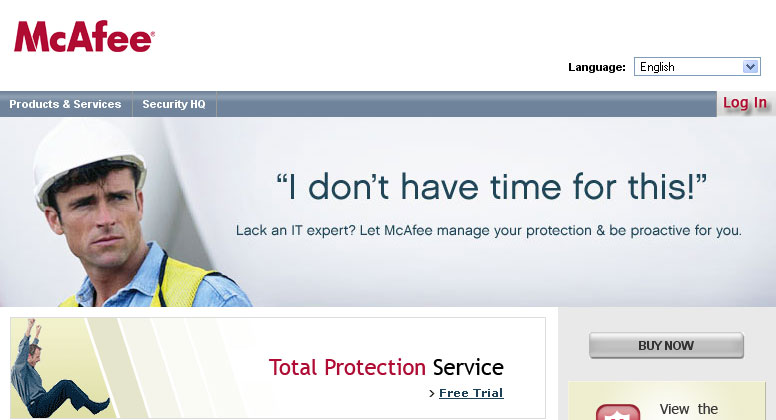 [Courtesy of: mcafeeasap.com]
Yea. I do have the knowledge, but don't have the time for this. That's why I mistakenly chose your piece of shit product / service. Instead of concentrating on all the other tasks I need to take care of. I'm constantly in contact with you and un-installing and re-installing (in various ways) this pathetic excuse for protection. I've wasted more time on this than I have anything… ever – that's remarkable in itself. You fail so miserably I cannot put it into words. Take your shit back to the production team and tell them they suck so hard that instead of outsourcing all this to India, you're going to outsource it to a middle school in Ohio.

I've never been a huge fan of McAfee, but I didn't think their products were total pieces of shit either – until now. The main thing I hated about McAfee's products was the fact that it seemed like any time an update was released (even just a .DAT file update), it forced you to reboot your machine. What a huge inconvenience. Especially considering the frequency of updates to .DAT files. Most other protection services do not require a reboot for just a .DAT file update.
Lately though, it seemed that their stand-alone protection products had finally gotten the hint and started enabling updates without you needing to reboot your machine every single time. Major updates to the software still required you to reboot your machine, but .DAT file updates did not (at least in most cases.)
So one day I was looking for a more consolidated solution to protecting several machines on a network. I gave McAfee Total Protection a try using their trial version. Things seemed to work fine, there were a few features I wished were there that weren't, but I figured it would only be a matter of time before they implemented these features.
What I've come to find out is this. You basically get a neat little web portal to login to that shows all the computers you have protected by this steaming turd. You get an overview of the crap it's found – which is mostly cookies. You get to see how many computers who's .DAT files are out-of-date (which will be most of them.) And that's about it. Oh, by the way, you cannot force updates to machines like you could with Norton like 6 fucking years ago. Seriously? Yes, seriously. This is not a consolidated solution in the least. It's not a corporate solution like they say – it is at best, a beta, trial, help us make money piece of junk. I'd rather install some clunky widget software bloated with malware and advertisements than McAfee's Total Let Down Service.
McAfee says that their service can be installed on desktops and servers including Vista (I know,) and that it is "compatible with all mail applications". This is all utter bullshit. It does not work on Vista (Seriously, I was forced to buy Vista.) And it is not compatible with all mail applications. I installed this on 2 different Vista machines, they never got automatic updates. They still wouldn't update when you tried to force an update. When using Vista, it does not install on all mail applications as described. Office 2003 Pro will throw at least 3 errors when trying to start Office Outlook, all of them due to a supposedly missing .DLL file – which is not missing. Manually registering the file does not help.
When I first installed this complete blunder, no machines would update automatically. Matter of fact none of them would update at all until I un-installed using all sorts of McAfee's whack-ass tools and the re-installed it. Then it would grab the latest update and then never update again.
I've gone so far with their "support" (through 3 different tiers) that they actually wanted me to allow them to remote into my machines to try and resolve the issues. Fuck that shit. Get your product working correctly on your own machines. I tried everything they recommended and followed instruction to the letter. I lost count how many times in un-installed and re-installed it from executables to command line installs. I used all the available methods of un-installing and re-installing – nothing fixed the issues.
Basically, it's become clear to me that this product was released way too early and they are essentially using me as a beta tester. No thanks. For the amount of money I paid, I'll be damned if I'm going to help them refine their products and services without some sort of compensation. If you're running a single desktop based on Windows XP Pro – most likely you won't have many problems now that they've released more updated versions. If you're running Vista – you're going to have serious troubles. If you're running some server software, you're going to have issues.
I seriously have no idea how this company stays in business.
Update: June 30, 2008
Check out this completely unhelpful and bogus "Resolution" McAfee gives for when your machine just won't update with the latest .dat file.
Resolving the "Unable to Create Cabinet Installer Object" error

Presented below are common causes and solutions to the "Unable to Create Cabinet Installer Object" error. Before contacting Customer Support, McAfee recommends you first verify the below items. If none of these resolve your issue or if you require assistance, please contact our technical support.

If you are seeing this issue it can be resolved by cleaning up Total Protection for Small Business and installing again. This issue is normally created by conflicts with an out of date Microsoft Internet Explorer. It is highly recommended, but not required that you visit Windows Update and install all the latest patches for your version of Internet Explorer or upgrade to the latest version.
Don't believe that shit.
This machine has all the latest Windows updates, it's running Internet Explorer 7.0.5730.11, and has been rebooted. I'm so sick of completely uninstalling and reinstalling McAfee's shit service every time there's a .dat update.
Update: April 27, 2010
Boy, am I glad I stopped using McAfee. Broken McAfee DAT update cripples Windows workstations.