I've seen lists of best horror films before, and those lists are full of shit. One listed The Blair Witch Project as one of the best horror movies. Seriously. Another listed Shaun of the Dead, that was a fucking comedy! I don't know who makes these lists, but they clearly suck at making lists so I figured I'd make my own. Oh, and I'm not listing anything from the 20's, 30's, 40's, or 50's.
I give you my list of the 10 best horror films, in no particular order:
---
Se7en
I don't know how this movie doesn't end up on more "best" lists. Some try to argue semantics and say that this movie was a "thriller" and/or "mystery" rather than a "horror". That's a piss poor argument in my book. At any rate, the casting was excellent and the story was even better. The entire movie was pretty creepy and I don't know anyone who wasn't at least a little freaked out when they found the "sloth" victim.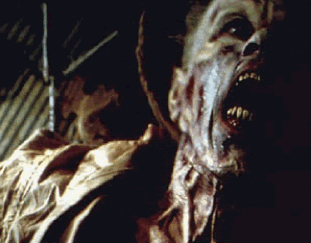 ---